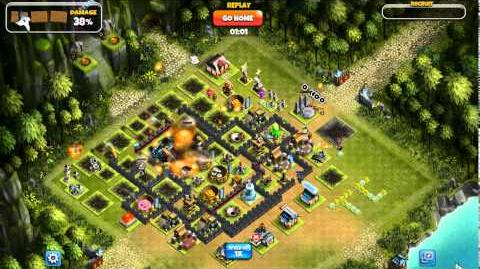 These steam-powered tanks act as mobile seige engines, lobbing powerful mortar rounds on enemy buildings.
~ In game description
Information
Edit
Last Checked: 2014-07-04
The tank launches cannonballs every 5 seconds and is one of the land troops with the most long (5 tiles) fire range.

Edit
Last Checked: 2014-07-04
In some days/months before July, 2014, the tank was once said to be a powerful battle machine which
Launches about 3 cannonballs per second (one shot per 0.3 seconds).
Is much stronger than a level 10 Oni, slightly stronger than a level 10 Taiho and just as strong as a level 10 Raijin.
Can blow up things in just seconds.
thus could perform like what the movie describes. However, this description about the power of the tank has been out-of-date.
Advantages
Edit
Last Checked: 2014-07-04
Crushes walls instantly so they don't have to shoot walls. A tank takes about 5 seconds to crush 1 tile of wall (as revealed by a battle field experiment at 2014-07-05 02 UTC, while a tank crushing a tile of wall having 850-1000 health).
High health (at least 700)
Cannot be captured from Pit traps (This has not been tested since 2014-07-04)
Destroys the trap instantly without losing a tank (This has not been tested since 2014-07-04)
Disadvantages
Edit
Last Checked: 2014-07-04
Too Expensive--9000 sushi at least
Too Large--A tank occupies 20 ships slots thus reduces your army size.
Gets focused by many towers at once
They move slow
attacks the closest building like most troops
Very low fire rate--Because the tabk fires per 5 seconds, a level 1 tank afflicts 10.1 damage per second which is a rate less than a level 3 kunai tower can do.
Can not be healed by a healer but a healer does fire her healing shots onto the tank--This is observed twice in 2014-07-04. This not only cause the tank to be weak but also may distract healers from healing other troops.
Last Checked: 2014-07-04
Use Taiho to increase their attack power from range aura
Health: 700
Damage: 51
Range: 5
Speed: 66
Ship Slot: 20
Type: Ranged
Target: Closest
Training time: 15 minutes
Cost: 9000 sushi
Ad blocker interference detected!
Wikia is a free-to-use site that makes money from advertising. We have a modified experience for viewers using ad blockers

Wikia is not accessible if you've made further modifications. Remove the custom ad blocker rule(s) and the page will load as expected.