The Scorcher is a locked troop in Ninja Kingdom which currently is not obtainable.
Edit
Appearance
Edit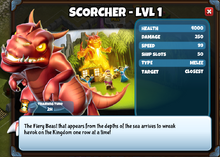 large red dragon
brown horns
its breath-looking tail with scales
it causes harm to villagers
it releases fire
a T-rex
it is the most powerfull troop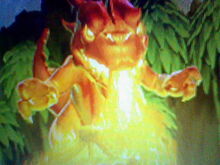 Health: 10,000
Damage (per fire shot): 350
Movement speed: 500.000
Ship slots: 50
Troop type: kontol
Target priority: Closest
Training time: 2 H



If you know anything more about this troop, please add it here.
Ad blocker interference detected!
Wikia is a free-to-use site that makes money from advertising. We have a modified experience for viewers using ad blockers

Wikia is not accessible if you've made further modifications. Remove the custom ad blocker rule(s) and the page will load as expected.