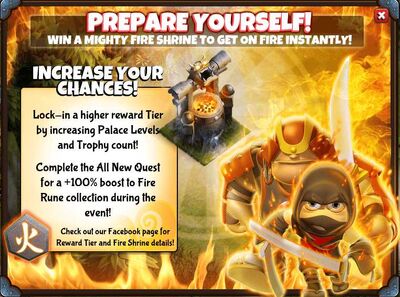 Prepare For Battles! is a 6-day quest that needs to be completed before the
Fire Challenge Event
starts.
Prepare For Battles! Quest is a preparation quest for the upcoming Fire Challege Event which starts this coming April 17, 2014 10:00 PST.
Prepare For Battles! Quest is Palace-based.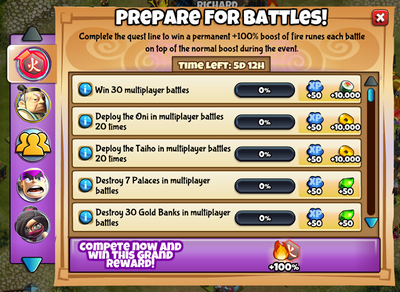 Completing the Quest before the event starts gets you additional +100% boost.
For More Info, Visit https://www.facebook.com/notes/ninja-kingdom/fire-challenge-event-info/267959013375847
Ad blocker interference detected!
Wikia is a free-to-use site that makes money from advertising. We have a modified experience for viewers using ad blockers

Wikia is not accessible if you've made further modifications. Remove the custom ad blocker rule(s) and the page will load as expected.